It is during the Jump Festa 2023 event, which takes place this weekend from Saturday 17th to Sunday 18th of December in Japan, that we learn the release date of the anime MASHLE: MAGIC AND MUSCLES.
During the presentation dedicated to the event, in addition to the release date, a new trailer and a new promotional poster were revealed for the occasion.
Do you like the magical and mysterious universe of the Harry Potter saga? Do you like the comical madness of One Punch Man? If so, you'll probably enjoy MASHLE, which openly draws inspiration from the best to create a unique, reference-packed, and downright crazy world!
Curious to know more? In this article, we give you all the information you need to know about the anime MASHLE, which is already among the unmissable titles of 2023!
What is the release date of the anime MASHLE and on which platform to watch it streaming?
The release date of the anime MASHLE, directed by the animation studio A-1 Pictures, is scheduled for April 2023 in Japan. For the moment, we don't know yet which French platform will offer the series in streaming.
MASHLE Trailer
As for the production team of the project, Tomoya Tanaka (Engage Kiss) is the director at the animation studio A-1 Pictures (86: Eighty Six). Yosuke Kuroda (My Hero Academia) signs the script composition while Toshima Hisashi is credited as the character designer. The music is composed by Masaru Yokoyama (Classroom of the Elite II). Takeshi Matsuda and Hiroaki Goda direct the action. Yusa Ito (Sword Art Online The Movie – Progressive – Scherzo of Deep Night) is the art director and Daisuke Fukuda is the 3D director. Satoshi Motoyama (Love After World Domination) is the sound director.
The artistic cast includes the following actors:
Chiaki Kobayashi, as Mash Burndead
Reiji Kawashima as Finn Ames
Kaito Ishikawa, as Lance Crown
Takuya Eguchi, as Dot Barrett
Reina Ueda, as Lemon Irvine
Hiroaki Hirata, as the Narrator
As a reminder, the anime MASHLE is adapted from the eponymous manga, written and drawn by Hajime Komoto, republished in Japan by the publisher Shueisha since January 2020 in its magazine Weekly Shonen Jump. The French version of the manga is published by Crunchyroll in April 2021.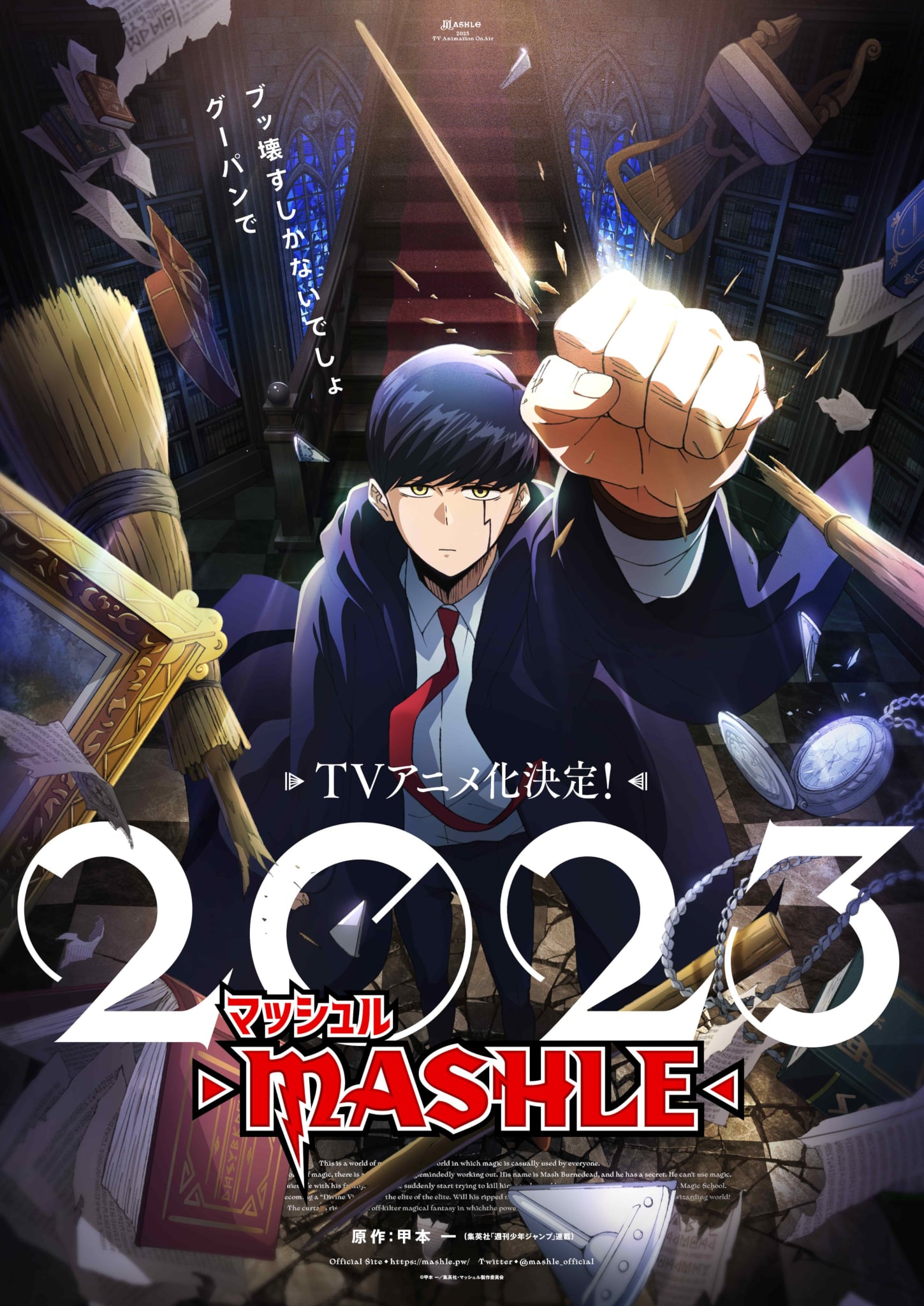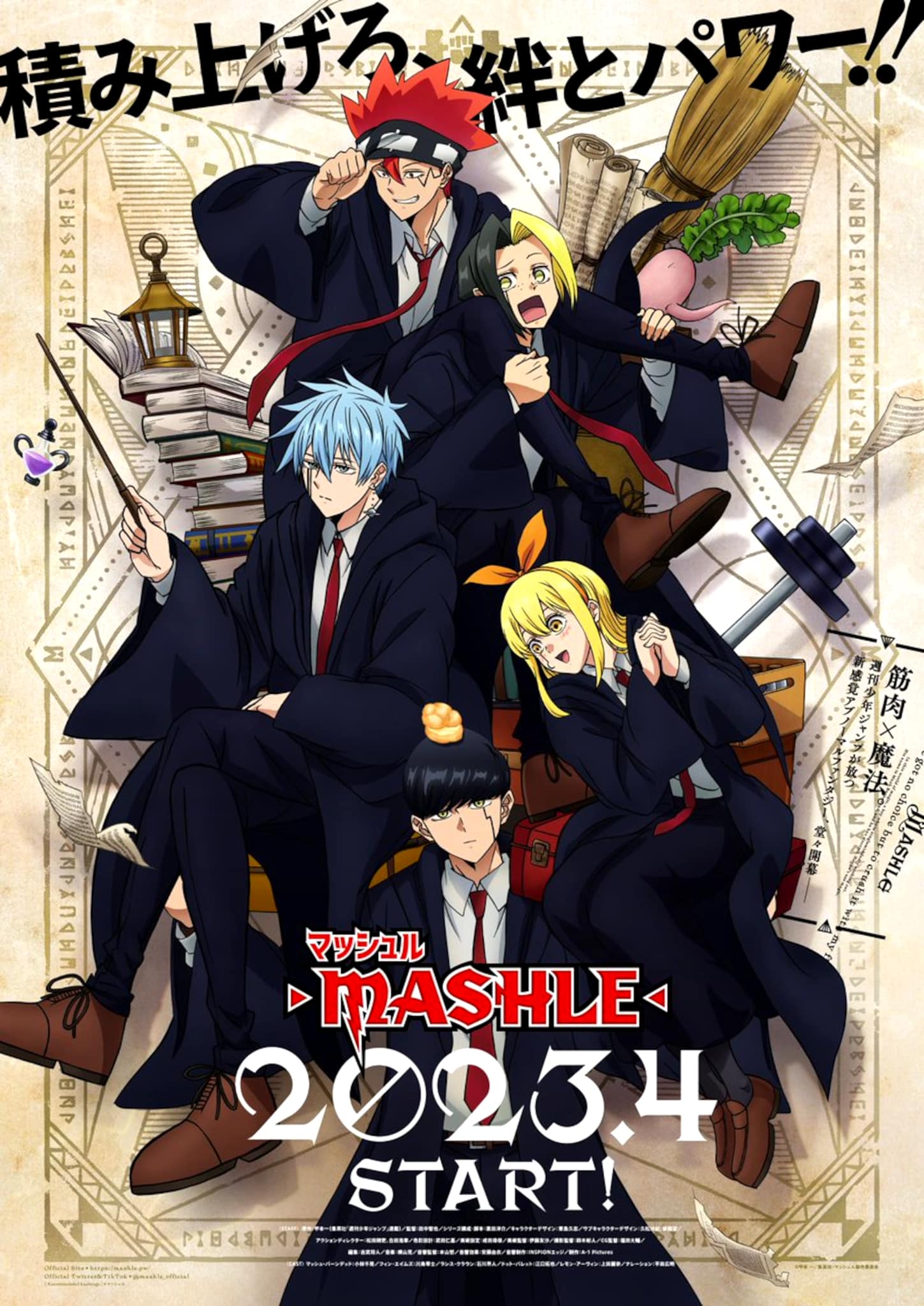 Synopsis of the anime MASHLE : MAGIC AND MUSCLES
In a world where magic dictates the laws and social rank is defined primarily by magical power, an unusual boy named Mash Burnedead is about to turn society upside down.
Far from the magical school, Mash's daily routine is simple: he works out intensively and eats cream puffs.
But his routine is suddenly shattered when a police officer discovers his secret: the young man was actually born without any magical powers, an anomaly punishable by death.
But Mash has a solution to escape his fate: join Easton, a prestigious magic academy, and become its best student!
About the anime MASHLE
This anime is adapted from the eponymous manga by Hajime Komoto.
Genre: Shonen, Comedy, Action, Adventure, Fantasy
Release date: April 2023
Staff anime :
Author: Hajime Komoto
Animation studio: A-1 Pictures
Director : Tomoya Tanaka
Script : Yosuke Kuroda
Chara Design: Tojima Hisashi
Music: Masaru Yokoyama
Art Director: Yusa Ito
3D Director: Daisuke Fukuda
Sound Director: Satoshi Motoyama
Anime Cast:
Mash Burndead : Chiaki Kobayashi
Finn Ames: Reiji Kawashima
Lance Crown: Kaito Ishikawa
Dot Barrett : Takuya Eguchi
Lemon Irvine: Reina Ueda
Narrator: Hiroaki Hirata
Latest articles: